LENGTH OF TIME ON MARKET (CDOM): A CRUCIAL REAL ESTATE METRIC
Posted by Jason Fox on Monday, October 23, 2023 at 9:55:26 AM
By Jason Fox / October 23, 2023
Comment
In the world of real estate, information is power. Whether you're buying or selling a property, having access to the right data can make all the difference in your decisions. One such critical piece of information is the Collective Days on Market, or CDOM. Or DOM Days on Market.
This metric holds valuable insights into the state of a property, the market, and the strategies both buyers and sellers can employ. In this guide, we'll delve into CDOM and explore what it means for you, whether you're a seller or a buyer. We'll also discuss some strategies and general rules of thumb to help you navigate the real estate market more effectively.
UNDERSTANDING CDOM
Collective Days on Market, or CDOM, is a real estate metric that tracks how long a property has been listed for sale on the market. It's a comprehensive figure, taking into account not only the most recent listing but also any previous listings the property may have had. In essence, it provides a complete view of the property's journey to find a new owner.
Here's a statistic that highlights the influence of CDOM on real estate:
In a seller's market, properties with a CDOM of fewer than five days typically sell at or above their listing price. However, when the CDOM extends to 30 days, the final sale price often falls below the original listing price. This underscores the importance of acting swiftly in competitive markets and the potential for negotiating more favorable terms when a property has been available for an extended period.
To illustrate the practical application of CDOM, let's consider a real-life scenario. Imagine you're a buyer searching for a home in a competitive seller's market. Most properties you're interested in have CDOM figures in the single digits. However, one property stands out with a CDOM of 25 days.
Your first instinct might be to dismiss it as less desirable. However, don't be too hasty. Investigate the property thoroughly.
Perhaps the longer CDOM is due to a high initial price that has since been reduced.
Maybe there's a specific issue, like dated interiors, that's holding it back.
It could have been under contract and fallen through due to financing or some other reason that is of no fault of the property.
This property could present an excellent opportunity, with the seller more willing to negotiate on price.
CDOM FOR SELLERS
For sellers, CDOM is a critical metric because it directly influences the perceptions of potential buyers. A property with a low CDOM often appears more attractive to buyers because it suggests a high level of desirability.
It can signify that the property is in good condition, priced appropriately, or located in a sought-after neighborhood. These are all elements that buyers value.
THE IMPORTANCE OF COMPETITIVE PRICING
One strategy for sellers is to keep a close eye on CDOM. If your property's days on market are starting to accumulate, it could be a sign that the price is too high.
Pricing is a critical factor in determining how fast a property sells. If you're in a seller's market, where demand outpaces supply, you may initially set a higher price.
However, as the days on market increase, consider adjusting the price to attract more buyers.
USING CDOM AS A NEGOTIATION TOOL
On the other hand, if your property has an extended CDOM, you might be compelled to lower the price to spark interest. In a buyer's market, this can be a key strategy for motivating potential buyers who are looking for a good deal.
An experienced real estate agent can help you decide on the best pricing strategy based on your specific market conditions.
WHY DOES A PROPERTY STAY ON THE MARKET FOR A LONG TIME?
If you're a seller and your property's CDOM is longer than expected, don't panic. Several factors could be at play. It might not be a direct reflection of your property's quality or appeal. For instance:
Overpricing:

If your property is priced above market value, it could deter potential buyers. A price reduction might be necessary to attract more interest.

Market Conditions:

Broader economic and market conditions can significantly impact CDOM. An economic downturn or a slowdown in the real estate market can prolong the selling process.

Property Condition:

If your property needs substantial repairs or updates, it might stay on the market longer. In such cases, investing in renovations or staging could make a difference.
USING CDOM AS A BUYER
As a buyer, understanding CDOM can be just as advantageous. It provides insights into a property's history and the seller's expectations.
Here are some key ways CDOM can guide your decisions:
BEAT THEM TO THE PUNCH
In a low inventory market where competition is fierce, properties with a short CDOM (1-3 days) can be your saving grace. These are often newly listed properties that haven't yet caught the attention of a horde of buyers. By targeting homes with a low CDOM, you might be able to put together a winning offer before the ulta aggresive bidding wars start.
IDENTIFYING POTENTIAL BARGAINS
On the other hand, in a seller's market where homes are selling quickly, you can use CDOM differently. If a property has been on the market for a longer period (e.g., 10 days or more), it might be worth investigating.
This extended time could suggest that the property is overpriced or has issues that deter buyers or just did not get the promotion it deserved. However, it's essential to evaluate these properties carefully and, if necessary, negotiate for a lower price.
ANALYZING MARKET TRENDS
CDOM isn't just about individual properties; it can also offer insights into broader market trends. For instance, if many homes in a particular neighborhood have extended CDOM, it could indicate an area in transition. Conversely, if most properties have low CDOM, it might signify high demand.
MARKET TRENDS CASE STUDY:
Let's consider a case study to illustrate these concepts. Imagine a buyer is searching for a home in a neighborhood with homes generally having a CDOM of 7 to 10 days. This suggests a healthy seller's market. However, recently, there's a noticeable trend with several properties in the area having a CDOM of 20 to 30 days.
FOR BUYERS:
Opportunity Spotting:

This CDOM trend might indicate a slight shift towards a buyer's market, where buyers have more negotiating power. The buyer can take advantage of this by considering properties with longer CDOM, knowing that sellers may be more open to price reductions or concessions.
FOR SELLERS:
Market Adaptation:

Sellers in this area should be aware of the changing market dynamics. If your property's CDOM is significantly higher than the local average, it may be wise to adjust your pricing strategy to attract potential buyers in this evolving market.
MARKET TRENDS AND CDOM STATISTICS:
Here are some additional statistics to consider:
In a market trending towards a buyer's market, the CDOM can increase by 20% or more over a few months.
In a seller's market, a drop in CDOM can lead to properties selling at or above the asking price.
A consistent decline in CDOM may indicate high demand and a potential price surge in the near future.
A sudden spike in CDOM across the entire market might signify external economic factors influencing the local real estate sector.
CDOM VS INVENTORY LEVELS
While the CDOM is a great tool to keep an eye on while buying and selling real estate as a real estate professional we pay more attention the inventory levels of specific area.
There is a correlation between the day's on market and the inventoy level as you can see below:
Seattle Average Days On Market Over 5 Years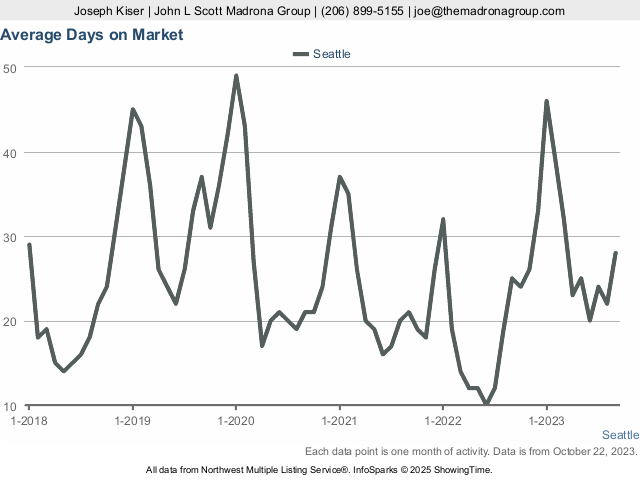 Seattle Months Supply of Inventory Over 5 Years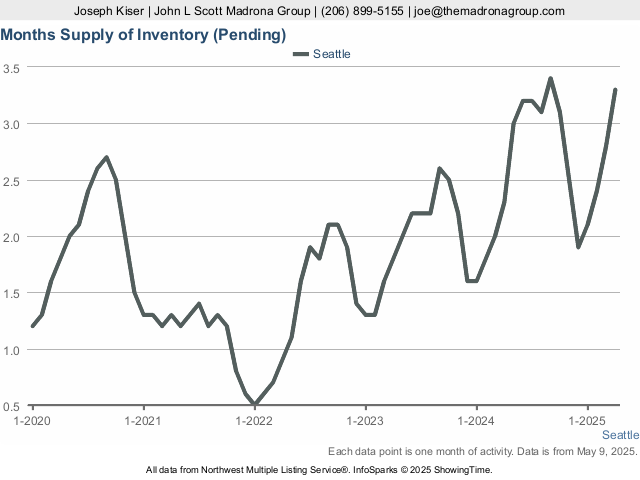 You will typically see the average days on market increase as the inventory levels increase and vice versa.
RED FLAGS TO WATCH OUT FOR
In a seller's market, a property with an unusually long CDOM could raise red flags. It may signal potential issues with the property, such as high pricing or significant flaws. In such cases, it's crucial to investigate further and even consider the necessity of a price reduction before making an offer.
It is especially suspicous if the home has been in the pending inspection status and come back to market after a home inspection was completed. This is where have a trusted real estate professional representing you is critical.
It does not necessarily mean the house is flawed, or perhaps something that bothered one buyer does not bother you. This is also an opportunity to negotiate the flaw be fixed before closing or a price reduction in the value of the flaw be negotiated.
FINAL THOUGHTS
Collective Days on Market (CDOM) is a valuable metric in the real estate world. Whether you're a seller or a buyer, it offers essential insights into property history, market conditions, and pricing strategies. By understanding the significance of CDOM and employing the right strategies, you can navigate the real estate market more effectively, make informed decisions, and achieve your real estate goals.
Remember, though CDOM is an important metric, it's just one piece of the puzzle. When buying or selling real estate.