Chris Fiamengo
President's Award 2021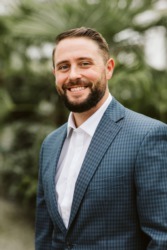 "Growth Comes In The Valleys"
Chris Fiamengo was born and raised locally in the Shoreline area, formally known as Seattle. He spent the weekdays with his mom who was a hard working bartender at the time and weekends with his dad who lived and worked in Seattle as a prominent artist and sign writer. His first job was helping out his grandpa with his HVAC business. This was where he learned that relationships were the key to any good business. If you take care of the customer the rest takes care of itself.
Wanting to make money to afford his first car he needed a job so he started working in a fast food restaurant. A friend of his at the time urged him to get out of that fast food restaurant and apply at a local fine dining restaurant as a busser and he got the job. This started a lifelong passion of high end guest first service that has been the keystone of his interactions with everyone he meets in business today. Through the years he has managed service teams, worked in event planning, and executed the highest levels of service in fine dining as a Captain. Wanting to leverage his skills in service and relationship building Chris started his real estate career in 2015.
Getting off to a quick start as rookie of the year at John L. Scott and laying a foundation locally as an agent that cares for his clients the utmost Chris was searching for a way to transition into become a top producer in real estate that he always envisioned. As fate would have it the opportunity to join The Madrona Group presented itself. With an opportunity to integrate world class technology and "old school" customer service while partnering with like-minded and talented real estate professionals the move was a no-brainer.
Chris understands that when people are buying or selling real estate there is something going on in their lives. Chris has a genuine desire to know your personal story and what your goals are in real estate. His innate drive for client satisfaction coupled with his attention to details are huge assets to his clients. Chris is an advocate for his clients in every way. Personal relationships are paramount in his business and it shows with the level of care and sincerity his clients receive. Having a hyper-local expertise in the area in which he lives and works holds a huge importance for him, as well. You get nothing, but the best service and attitude of positivity with Chris.
Chris lives in Lynnwood with his two boys, his wife, and Golden retriever. He is an advocate in the community for growth and development. In his spare time you will find him celebrating all that the Pacific Northwest has to offer with hiking, camping, and backpacking throughout the many trails and mountains that are so accessible.