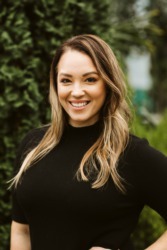 Never believe that a few caring people can't change the world. For, indeed, that's all who ever have. ~ Margaret Mead
Ashley, or ARod as her friends call her, was born and raised in the Seattle area and she looks forward to many more years here. She loves the small town community and feels very fortunate to be working in the Greater Seattle area as it has always been one of her favorite areas.
Ashley has spent the majority of her career life in marketing and sales, with a short stint in the mortgage industry.
She finds a joy in meeting new people and building relationships with them. She is truly passionate when it comes to helping people and looks forward to making her client's dreams come true. Whether that be in finding the best price to sell their home or to find that dream home that families may build lifelong memories in.
It would be my dream to help you achieve whatever real estate dream you have.
Pending 10009 NE 120th Ln #B202
Kirkland, WA 98034